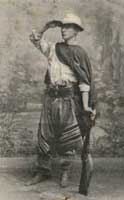 What we've been up to.
The whole trip was, as ever, splendid, action packed and fun filled. Most of you probably know that we were heading out there to defy death and spit in the face of modernity by trekking 600 miles from the Andes to the east coast on horses and with only our Great Grandfather's guide book for advice.
All went well for a while – we arrived in Buenos Aires, togged to the nines in 3 piece tweed suits and colonial attitudes, to find everything delightfully cheap. As much as we feel for the people of Argentina, with a collapsed economy, we really must encourage these crises more often. Argentina is a wonderfully well developed country and BA is a bit like Paris, but at the moment the prices are more akin to Bolivia. For the first time in our lives, we felt seriously loaded.
In B.A. we pranced about, filmed a lot, ate HUGE steaks, managed to get accredited as journalists by a local English speaking newspaper, and dropped in on the Embassy for tea in the garden. The Ambassador was away (apparently down in Patagonia making cunning remarks about the Falklands he told us later) so another chap met us, who was very much more than candid about the Argentines themselves. He later wrote to us to ask if we could be very careful about what footage we used of our interview, as much of it was likely to cause a diplomatic incident.
Then we headed for Patagonia. Cheating slightly by flying (we were supposed to be travelling as Victorian gents by this stage, but its hell finding decent stagecoaches in this day and age), landing in Bariloche. Lovely skiing resort on the banks of a huge lake described in our aged guide book as the Trosachs of south America. Our aim was to find a guide who could take us on the trek, and who knew how to survive in an old style – hunting for food and living far away from civilization etc. We did locate such a guide but he kept banging on about safety, taking precautions and making sure we knew what we were getting ourselves in to. THIS WOULD NOT DO.
We did, however, bizarrely run into a troupe of bag pipers and highland dancers, on tour, not from bonnie Scotland, but from Buenos Aires. They were not even of Scottish decent, and most had never been there, but for some reason they were united by a deep and profound love of highland dancing. Most of them were in counselling.
So we headed off yet further south to Esquel, in search of a foolhardy chancer ready to bluff his way though the centre of Patagonia.
Imagine our luck when we chanced upon just such a fellow. Used only to the mildest of horse treks in the highlands of Patagonia he instantly jumped at the chance to cross the continent. As he seemed to have little idea what was going on, and a deficiency of functioning appendages, we signed him up immediately. The next week was spent preparing ourselves for the trek. This meant rigorous eating of yet more vast quantities of MEAT and drinking wine from leather bags, all in the company of young Chilleans.
And then we were off…….. very….. very….. slowly. 12 horses, the 2 of us, Harry, 'ol stumpy Angel, and a very quiet Gaucho Ernesto. First site of interest was the 'Last of the Mapuche'. Here we stayed at the abode of one of the last local Indian chiefs. He slaughtered a sheep for us…………. we proved that his shit-house was not bullet proof. The shooting of the latrine was brought on by the necessity of sighting our new Winchester .44 rifle. When we say new, we obviously mean new to us…. as this rifle was a bit old, being the same type that our Great Grandfather used, and a rifle you all will have seen being wielded by John Wayne against warpainted Apaches.
Huzzah – the thing was accurate - we could now live of the land. It did'nt occur til later that shooting a mans loo might be a bit rude.
Our first few days of trekking into the middle of no-where, however, were slightly odd, as we were met each night by our host from Esquel, her two sons and Fabian (a legend who, at the end of this tale, you will learn to love like us). Our host from Esquel was a most amazing lady who, like our own dear mum, could not help but feed everyone within feeding distance. What was incredible was that this range of feeding stretched for some 50km, and so for the second and third days we would arrive, feeling kind of cowboy, to be met with pizza, cold beer and hugs all round. Her sons, 'Los Gremlins' would scamper about grinning and nattering away. And all along there would be Fabian….
Once beyond our surrogate mother's hospitality range things began to get a little harder. We were moving much slower than we had predicted and there was a distinct lack of things to shoot.
After a few particularly hot days and windy nights out Harry got fairly ill, and our food provisions fairly light. Instead of the bonanza of death and animal skinning we were expecting, there was a lot more mutton and money passing going on every time we came across a farm.
Luckily the time spent stopping in places made up for the journeying to get there – lovely siestas spent fishing by rivers, and a general care-free attitude to life that people tend to get when living in the middle of fricking nowhere.
11 days in, however, things started to go seriously wrong. Our 'guide' (he did'nt know where the hell he was going either) had been getting seriously unhappy of late, and one siesta it became clear that one or two of the horses were dying. These horses came from the cordillera (foothills of the Andes) and were unsuited for long hot desert crossings, where the food is scarce and the days are hot. What's more, our Gaucho who worked like a Trojan was due to leave in a couple of days, and seeing as we were coming up to one of the few villages on our route he thought it best to leave from there. It turns out our dishonest guide had told him that we should only be gone for 15 days- not the 25 that we told him would be the minimum. It all amounted to one thing…..our guide quit.
A Third of the way through the trip he just rode past each of us in turn and said "no mas cabalgata. Mi voy"
He left us at a farm 4km from a village, arranged a truck for his horses and buggered off the next day in a flurry of arguments about money. Apart from the mess he'd left us in, we weren't too sad to see him go, as he'd become a serious irritant over the last week. Ernesto, however was awesome. A classic of the gaucho breed, who worked damn hard, never complained about anything, and knew pretty much everything there is to know about horses. He could kill and skin a sheep in 7 minutes, re-shoe horses with minimal tools, make and use lassoes, bolas etc and even cook a brilliant camp fire stew.
So we were stranded. But we had a Fabian up our sleeve. Before we left, Fabian had told us to phone him if we had any major probs, and seeing as this fitted the bill we gave him a buzz (the village had one communal phone). Like a night in shining armour, or rather an Argy with not a lot to do, the 'Fabmeister' came to our aid and found us a guide with horses.
And off we went again. Our new horses were much faster and tougher, as was our new guide Marcello. He arrived early one morning and we headed off at twice the pace we had been doing (8km/h instead of 4), but nearly ended the excursion after a couple of hours. Marcello was tending to one of the pack horses, when one of the others took a swipe at it. Marcello was in the way and took the full force of one hoof clean on the arse, sending him flying 6 feet . It left a very neat print and the one butt cheek swelled up to twice the size of the other. Had the hoof hit in any other place it would certainly have broken something and that would have been that. As it was Marcello could not sit straight in his saddle for the best part of a week, and trying to persuade a hard, naturally homophobic gaucho to let us film his arse for the docu was an art in diplomacy itself.
Gauchos are a genuine breed apart. They are very honourable and demanding (and give in return) much respect. They work very hard, and are incredibly handy for pretty much any outdoor activity. With horses they are unsurpassed. They live on a diet of mate – the local tea, usually drunk from a cup made out of a bulls testicle – and meat. They are generally very friendly, if somewhat hard as nails, and they love drinking wine from the bota – a leather bag, which keeps it cool, and making any joke refering to the size of your testicles, or anything to do with shagging horses. You could infact make many devoted friends amongst them by just learning enough vocab to refer to these topics, and repeating it over and over again. Never,ever, however, get into a fight with one. Part of their code on life revolves around knife fighting (they ALWAYS have a knife on them – often two) and our guide detailed the tactics of attack and defence with a blade to us at great length. He also, by the way, hunts vast, tusked, wild boar with this same knife.
Our hunting started to have more success on this stretch of the journey, largely due to desperation at eating mutton and lamb every day. Up until now Jules had managed to shoot one ostrich, and one guanaco (a kind of skinny llama). Harry and Ollie had had some luck with a can and fishing line. Attempts with boleadoras from galloping horse came to nothing, except a lot of fun, but the rifle started earned its keep, and our final tally included Gaunaco, ostrich, hare, duck, martinetti (tastes like chicken), and piche – small armadillos (nothing like chicken unfortunately). Combined with fine fresh water trout, we were starting to eat like kings.
Christ!! This is getting long – right……pay attention……
Lots of fun, lots of hassle – mainly to do with crossing private property without permission. Got shot at, avoided tarantulas, avoided police after poaching, two horses went lame, met mad gauchos, crossed a desert, we arrived in a Welsh village (where they still actually speak Welsh) took tea while the mayor waited for us in the town square, and rounded the whole trip off with a bit of rodeo.
Back into tweeds for town wear, did the rounds of local TV and radio (again – we had also done this before we set off), went and taunted seals and saw killer whales. R&R down around glaciers and mountains further south, back up north to our friends estancia for a few days of dining and bridge, before back to Buenos Aires to meet the British ambassador for tea and home in time for supper.

While we were away there was some nonsense about a war in Iraq, but I don't think anyone noticed.
This does not do any kind of justice to the great and lovely people who we met on the way. Especially Fabian and his delightful wife and kids. This last sentence is also the kind thing that people say at the end of speeches and everyone gets bored. So lets have no more said about it.
We are now editing the incredible doccumentary, which will, of course, rock.
Thankyou and goodnight.
O, J and H.
PHOTOS © OLIVER CAMPBELL